Transfiguration is home to The Arnold Schwartz Memorial Concert Series, which was founded by Marie Schwartz in 2004 in memory of her late husband. Since then over fifty concerts, operas, and music dramas have been performed, using some of the finest singers and musicians in New York City. In addition, the church presents outstanding musical groups from September through June, as well as a Summer Concert Series.
Examples of Our Concerts can be seen on YouTube. Our most recent Candlelight Concert can be found here.
Upcoming Events
October 02, 2019

7:00 pm

"Opera Inspired in Spain" Arias, Duets and Ensembles of Operas by Verdi, Donizetti and Gomes, inspired in Romantic Era Spain
Tickets: $20



Centaurus Artes showcases world class performing artists as well as lesser known classical music composers from the Spain and Latin America, and aims to bring awareness of new vocal talents as well as musical patrimony from the Hispanic World and the Americas. "Opera inspired in Spain" is a benefit concert for Hispanic Culture Arts, a New York based arts education organization dedicated to bringing bi -lingual arts education curriculum to students of the Greater New York Area. Tickets can be purchased online here.




October 30, 2019

7:30 pm

NY Composers Circle
Saxophone Quartet
Tickets: $20, free for students


The Cobalt Quartet comprises four of the finest saxophonists from the New York metropolitan area and is particularly interested in presenting modern pieces by living composers. Join us for an evening of recent music by NYCC composers Raoul Pleskow, Hubert Howe, Richard Brooks, Christopher Sahar and others. The concert will be followed by a wine and cheese reception.

November 17, 2019

3:00 pm

Three Idylls by Frank Bridge for String Quartet Quartet for Organ and Strings, Marcel Dupre Concertina for Organ and Strings, Robin Dinda Adagio in G Minor for Organ and Strings, Tomaso Albinoni
Suggested donation: $20
All tickets will benefit our music program

The Viva Voce String Quartet features Susan Olsen Maren and Annelie Fahlstedt violins, Lucy Corwin, viola and Madeline Casparie, cello.

November 23, 2019

7:30 pm

Pomerium, Presented by GEMS Pythagoras in The Middle Ages: Music in Tune with the Heavens
Tickets: $25 Front Section, $20 General Admission $10 Seniors (65+) $5 Students (with valid ID)

One of the principle teachings of Pythagoras—that music on earth can be numerically in tune with the "music of the spheres"—plays a role in all of the pieces on this program, from an organum setting by Leonin for the Cathedral of Notre Dame in Paris at the end of the twelfth century to Guillaume de Machaut's Messe de Nostre Dame of ca. 1360 to mind-boggling isorhythmic motets by Guillaume Du Fay and Tapissier in the waning Middle Ages. The program charts an evocative journey from the earliest numerically designed polyphony (thirteenth century) to sophisticated numerical structures of the Ars nova (fourteenth century) to some of the last and most intricate numerical masterpieces before the innovations of the Renaissance (early fifteenth century). For more information visit www.pomerium.us.


December 13, 2019

7:30 pm

Christmas Candlelight concert Amahl and the Night Visitors World Premiere of The Stable-Girl plus Favorite Christmas Music
Tickets: $40, $25 students and seniors.


Purchase tickets online here.

Gian Carlo Menotti's beloved opera was commissioned and first performed by the NBC Opera Theatre and broadcast live on Christmas Eve 1951. Join us for a fully staged and costumed performance by Soloists with The Transfiguration Choir of Men and Boys, Girls, Camerata and Chamber Orchestra. Also on the program: The Stable-Girl, a newly commissioned chamber opera by Victor Kioulaphides, along with favorite Christmas hymns and carols. Claudia Dumschat, Director

Cast:

Amahl and the Night Visitors
The Mother: Tesia Kwarteng
Amahl: Devin Zamir Coleman
Melchior: Bill Gross
Kaspar: Nick Nesbitt
Balthazar: Kenneth Overton
The Page: Alexis Cordero

The Stable-Girl
Mary: Kathryn Mensendiek
Joseph: Bill Gross
Innkeeper: Kenneth Overton
Evie: Tessoro Estrella




January 04, 2020

7:30 pm

Saturday, January 4, 7:30 P.M. Alana Youssefrian, violinist. Presented by GEMS Baroque Underground: Rare Treasures for Baroque Violin and Theorbo
Tickets: Prime Seating $40 , $30 Reserved Seating, Students $10 (with valid ID)


Come experience lesser known works of the baroque era's most beloved composers with the dynamic duo of Alana Youssefian and Adam Cockerham. Featuring an array of solo and ensemble works for violin and theorbo, Baroque Underground spans the national styles of the 17th and 18th centuries leaving no stone unturned. The small but rich instrumentation of the lyrical violin and florid theorbo promises to delight in rare works by Vivaldi, Biber, Caldara, and more.

February 07, 2020

7:30 pm

Trinity College Choir, Melbourne Australia, Christopher Watson, Director Music by Thomas Tallis and the Mass in G Minor by Vaughan Williams, plus modern Australian and American Music
Tickets:$25, $15 students and seniors

The Choir has collaborated with various orchestras, instrumental ensembles and conductors, including performances of JS Bach's St Matthew Passion with Jeremy Summerly in 2011, the St John Passion with Stephen Layton in 2012 and Handel's Messiah in 2016. In 2018, the Choir performed the role of the semi-chorus in Edward Elgar's 'Dream of Gerontius' with the Melbourne Symphony Orchestra and Sir Andrew Davis, released the latest in a long line of CD recordings, a disc of Carols.

February 19, 2020

7:30 pm

NY Composers Circle, Claudia Dumschat organist
Tickets: $20, free for students


Claudia Dumschat, Organist and Choirmaster of the Church of the Transfiguration, Listen to the wonderful C.B. Fisk organ as it sings out a series of recent works by NYCC composers including Frank Retzel, Linda Cashour,Dary John Mizelle and Timothy Lee Miller. The concert will be followed by a wine and cheese reception.

March 22, 2020

3:00 pm

New Amsterdam Consort
Tickets:$25, $15 for students and seniors

The period-instrument string ensemble New Amsterdam Consort returns this season to the Little Church with a fresh program of music from the sixteenth through eighteenth centuries. Since its formation in 2018, this group of talented young Juilliard graduates has earned a reputation for its impeccable and stylish one-on-a-part performances of Baroque string music, combining audience favorites like Purcell and Telemann with lesser known works and composers. Join us for an afternoon of musical surprises and delights as we continue to explore this endlessly inventive repertoire.

April 26, 2020

3:00 pm

Pomerium Josquin's Brilliance versus The Drama of the Mannerists
For ticket information: Call 212-866-0468

In this program of some of the greatest masterpieces of the high and late Renaissance, the technical brilliance of Josquin Desprez's Missa L'homme armé sexti toni is juxtaposed to the chromatic and dissonant music of Giaches de Wert and Carlo Gesualdo. One Renaissance commentator compared Josquin to Michelangelo. By that measure, Giaches de Wert and Gesualdo are the musical counterparts of the avant-garde painters Parmigianino, El Greco, and Caravaggio. Josquin's music impressed his contemporaries by its seeming miracles of counterpoint. Martin Luther famously said of him that he could make music do what he wanted, whereas other composers had to do what the notes required. Two and three generations later, Giaches de Wert and Gesualdo wrote music with a different aim: to create maximum emotional impact for its listeners by means of chromaticism, difficult melodic leaps, and arresting harmonies.

May 19, 2020

7:30 pm

An Evening of New Music
New York Composers Circle
Tickets at the door: $20, free for students


Join us for a concert of new music for strings and winds performed by a collection of some of the finest musicians in the New York metropolitan area. You'll hear new works by NYCC composers Richard Brooks, Linda Marcel, David Mecionis, Gayther Myers and others. The concert will be followed by a wine and cheese reception.

June 05, 2020

7:30 pm

Mozart's Requiem The Transfiguration Choirs of Men and Boys, Girls, Camerata and the Chamber Orchestra
Tickets: $40, $25 students and seniors

Unfinished at the time of his death on 5 December 1791, Wolfgang Amadeus Mozart's "Requiem in D minor" is now one of the most known and praised classical works of all time. Requiem was commissioned by an anonymous patron who attempted to keep his identity secret because he was planning to pass Mozart's work off as his own. Mozart worked on the piece up until the day of his death—even rehearsing various choral parts with friends while in bed only hours before he died.
Our Little Blog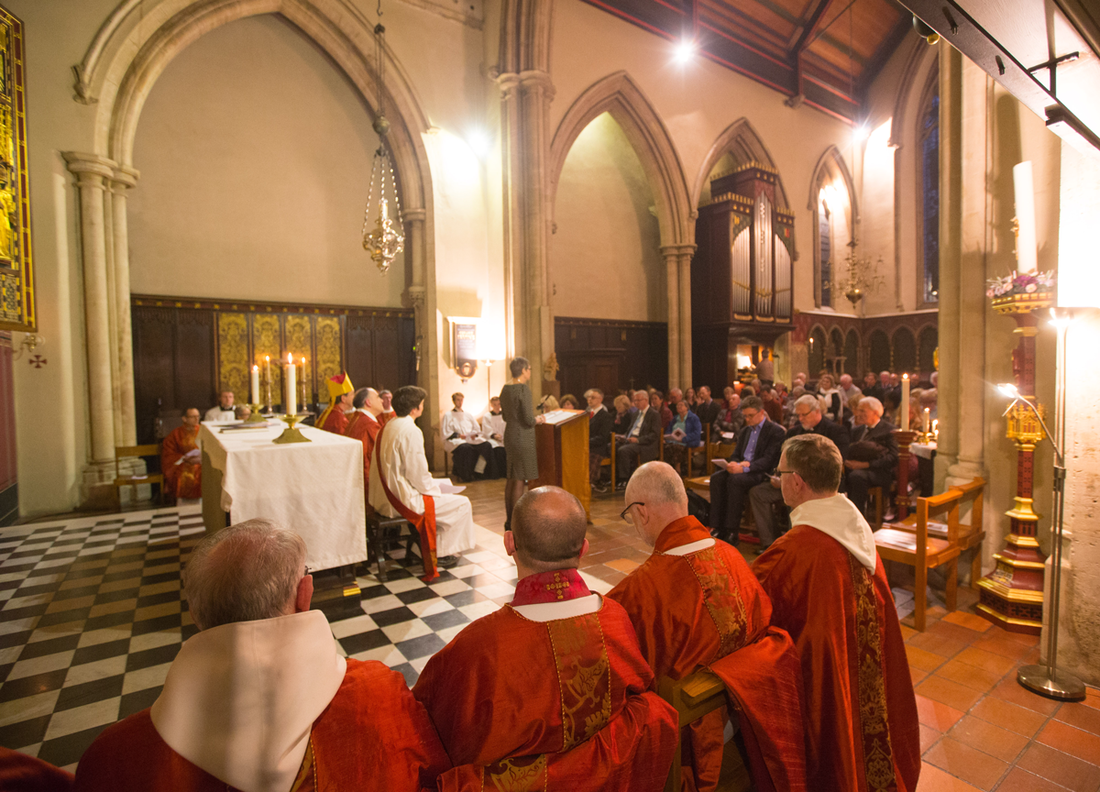 September 19, 2019
St. Matthew's Westminster, Our Twin Parish